Publications: El Vidrio como una expresión de Arte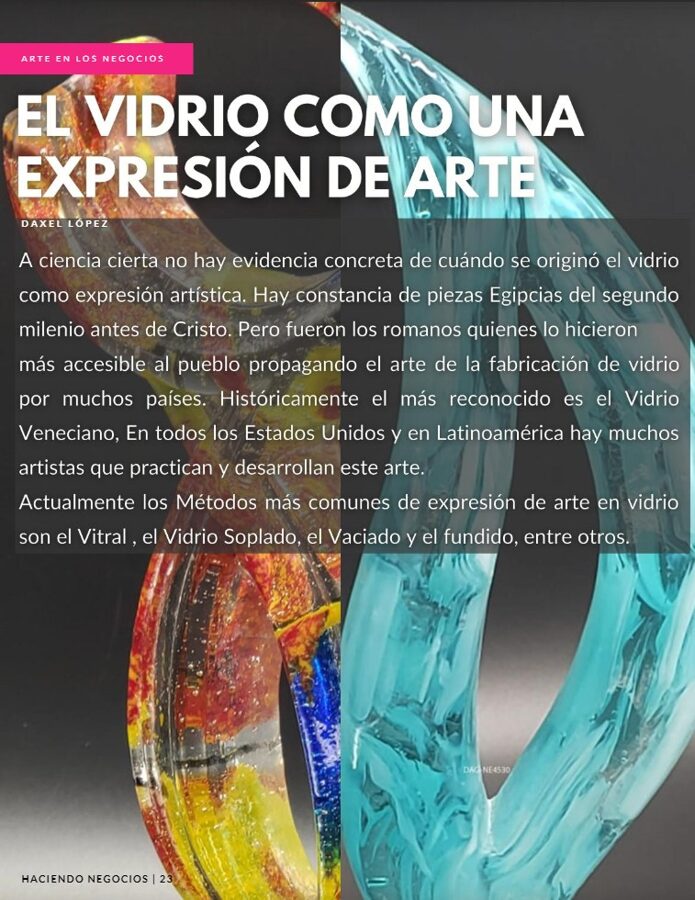 Publication in Spanish In the magazine Haciendo Negocio
ENGLISH TRANSLATION ATTACHMENT
Glass as an expression of art.
For sure there is no concrete evidence of when the glass originated
as an artistic expression. There is evidence of Egyptian pieces from the
second millennium BC. But it was the Romans who did it more accessible
to the people by spreading the art of glassmaking in many countries.
Historically the most recognized is the Venetian Glass, in all the
United States. and in Latin America there are many artists who practice and develop this art.
Currently the most common methods of expression of art in glass are
Stained Glass, Blown Glass, Casting and Molten Glass, among others.
Contemporary glass art is used in Churches, Gardens, Hotels,
Hospitals, Corporations and even in homes presenting as
personal collections, and has become a main element in the
interior decoration and a new alternative to enhance each special place.
It is the only material for artistic expression that has the characteristic In particular,
when combined with an external element (light) it can reflect changes
in its tones, thus creating harmonic contrasts to highlight its beauty.
Daxel Lopez
Dax Glass & Metal Art
Clermont Florida
No comments
Leave a reply